Ines Sainz Pictures – Reporter Harassed By Jets Photos – Ines Sainz, the sportscaster who claimed that the New York Jets made a number of sexually suggestive comments to her on Saturday continues to dominate Google's hot trends list. The reporter works for the Mexican TV network Azteca and has been with the company for more than nine years. After the initial reports came out, she quickly released a statement saying that the comments were made jokingly and that she in no way felt threatened during the incident.
She also went on to say that she has received similar reactions in other locker rooms, but that the players have never been as rude as the New York Jets were. She said that the vocabulary that they used to refer to her was where she had the problem.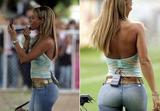 During her appearance on "The Early Show," she said that the minute that she walked into the locker room, the players started talking about her. She then ignored the comments that they were making, and waited for Mark Sanchez so that she could interview him.
Sainz reportedly did not hear all of the comments that were made, but a colleague of hers came over and tried to usher her out of the locker room after hearing some of the things that the players were saying. Sainz responded to the colleague by saying that she could handle herself, and attempted to ignore the comments that were being made.
The New York Jets are now under investigation by the team and the league for the incident.