Larissa Riquelme Nude Pledge : Paraguay World Cup Fan – Although Paraguay might not have won the tournament, there are still plenty of fans celebrating the event. Among these include Larissa Riquelme who has been featured in the news periodically after she arrived at Paraguay's first World Cup battle with Italy. She has fascinated fans and enlightened the moods of others who have attended the games. However, it's her sexy appeal and tactics that have attracted her national attention.
To the satisfaction of many you can find shots of Larissa Riquelme with red, blue and white colors all over the internet. She's just 24-years-old but she's turned into a symbolic, patriotic figure for the team and for the nation.
You can find all sorts of pictures where she's representing her proud colors, including one where she has a mobile phone positioned between her breasts as she posses for the camera.
When she first started receiving attention she told everyone that she would strip down bare naked and run through the city of Asuncion decked out in the team's colors had they won the tournament.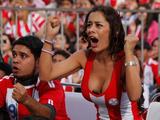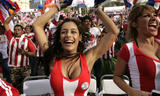 However, it was nice to find that she down sized that promise just a little bit and decided to do a sexy suite of posses for the camera. She wanted to do something for her team even though they came up short.
Paraguay managed to reach their first World Cup Quarter final but where sent home by Spain who will be fighting for the World Cup trophy. Most of the drama resided around the fact Larissa might not be taking off any clothes at all because her team didn't win. Thanks to her kind heart, we got to see something anyway .