Justin Bieber In Love With Allua – Justin Bieber has found love and his fans can not do anything about it.
Justin Bieber has revealed to Ellen DeGeneres that he did go out with Miley Cyrus on one date but his heart belongs to a beautiful white lady named Allua-you see Allua is a female beluga whale that is currently swimming in the pools at SeaWorld San Diego .
On Friday afternoon (May 14) it became official no female on earth or in the sea for that matter can resist Justin Bieber's charm and unique hair cut-not even the whales!
After breaking Oprah,Kim Kardashian and Ellen DeGeneres' heart Justin Bieber went to SeaWorld in San Diego where the teen star shattered another heart: the one that belongs to Allua.
The beluga whales are all white and unlike other whales they are capable of swimming backwards. These whales are known to be very sociable.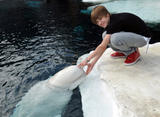 However just like a real lady,the young Allua did not seem very interested in Justin in beginning – Justin was quite suspicious on his side.
But we know that a guy like that has to deal with wild fans every day so he did not hold back. Thus, his smile was enough to win beluga's heart which lead her into giving him a long kiss on the cheek.
In related news Justin Bieber has just finished shooting his music video for the song called "Somebody To Love" and will be performing for Radio KIIS FM in Los Angeles over the weekend.
Additionally in a few days he begin his tour in the United States. Now that he has conquered the whales, Justin can rest assured: his world tour will be a success!